Wishlist Wednesday is a book blog hop where we will post about one book per week that has been on our wishlist for some time, or just added (it's entirely up to you), that we can't wait to get off the wishlist and onto our wonderful shelves.
So what do you need to do to join in?
Follow Pen to Paper as host of the meme.
Please consider adding the blog hop button to your blog somewhere, so others can find it easily and join in too! Help spread the word! The code will be at the bottom of the post under the linky.
Pick a book from your wishlist that you are dying to get to put on your shelves.
Do a post telling your readers about the book and why it's on your wishlist.
Add your blog to the linky at the bottom of this post.
Put a link back to pen to paper (http://www.pentopaperblog.com) somewhere in your post, and a note saying that Pen to Paper is the host of the meme.
Visit the other blogs and enjoy!
Hagwitch
by Marie-Louise Fitzpatrick
Goodreads synopsis:
Celtic legend, a malevolent faery queen and the dark underbelly of the theatreworld come to life as two stories of 16th-century London and the modern day interweave in this gripping tale full of dark secrets and magic.

16th-century London, Flea Nettleworth, apprentice to a playwright, watches as his struggling master's fortunes turn, and all of a sudden London is in his thrall. But soon Flea's master can no longer tell where the imagined world ends and the real one begins. Could the arrival of a mysterious Faery Elder trunk hold the answer?

Modern day, Lally lives on a barge, roaming the canalways and performing shows with her puppeteer father. Then, after Lally's father pulls an ancient piece of wood from the canal and fashions it into a puppet, his success seems unstoppable. As her father's obsession with his puppet grows and his plays become darker, Lally begins to wonder if there is something rather sinister, dangerous even, about the wooden doll.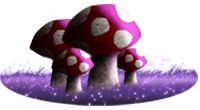 I spotted this one while I was on holiday in the Lake District last week, but I decided not to pick it up while I was there (mostly due to suitcase space!). I do still want to get it though - it sounds like a really unique read. I really enjoy books that have elements of legends, and I also like reading about faeries, so this sounds like a great read to me!
If you've read this one, definitely let me know what you thought of it - I'd be really interested to hear your opinion.
What's on your wishlist this week? Let us know in the comments below, or link to your own Wishlist Wednesday post in the Linky :)