First Page Friday
is a new weekly feature at
Pen to Paper
, where I will post the first page of a (probably) Young Adult book, that I am particularly excited about, or have already read and loved.
Scarlet
by A. C. Gaughen
Publisher
:
Bloomsbury
Pages
:
304
Release date
:
7th June 2012
Buy
:
Book Dep
|
Amazon UK
|
Amazon US
|
Waterstones
Find on Goodreads
Read my review
Goodreads synopsis:
Many readers know the tale of Robin Hood, but they will be swept away by this new version full of action, secrets, and romance.





Posing as one of Robin Hood's thieves to avoid the wrath of the evil Thief Taker Lord Gisbourne, Scarlet has kept her identity secret from all of Nottinghamshire. Only the Hood and his band know the truth: the agile thief posing as a whip of a boy is actually a fearless young woman with a secret past. Helping the people of Nottingham outwit the corrupt Sheriff of Nottingham could cost Scarlet her life as Gisbourne closes in.





It's only her fierce loyalty to Robin—whose quick smiles and sharp temper have the rare power to unsettle her—that keeps Scarlet going and makes this fight worth dying for.
The First Page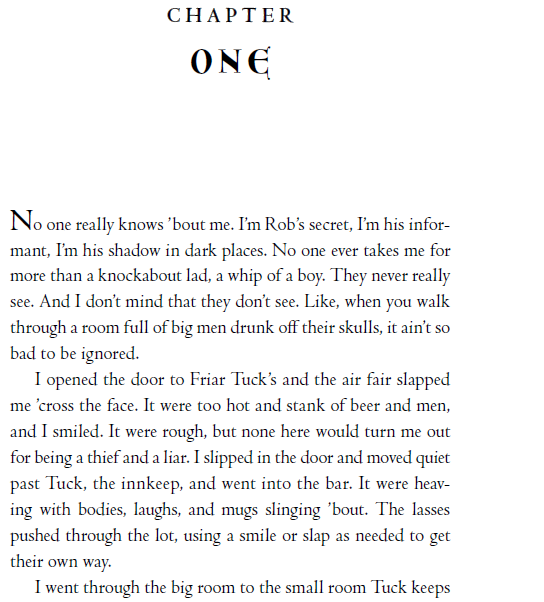 My Thoughts...
Scarlet is, by far, one of my favourite books of 2012, so far - and it's certainly one of the most unique books I've ever read. You wouldn't expect it to be unique, as it's a kind of retelling, of the tale of Robin Hood, however the
way it's written
is unique
. You can see this stylised written style, even from the first page.
As I said in my review, the characters are really well-written in the book, and they definitely feel real, but it is this written style, that really makes Scarlet's character come
entirely
to life, and puts her voice into the reader's head.
In a way, the style of the book also makes it feel more 'comfortable', and warm - if that makes sense to you. It just feels more cosy - like I can sink into it, and live it, with much more ease, than if it had been written in a 'standard' prose style.
So this first page
definitely
introduces the atmosphere of the book, and Scarlet's character really well, and it only gets better from here! I adored it (obviously), and you read more of what I had to say about the book as a whole, by reading
my review
.
Have you read Scarlet? What did you think of it?
If you've not read it, does this first page make you want to add it to your TBR? (I hope so!!)
Let me know in the comments below :)