Welcome to Pen to Paper's first day on the BeSwitched blog tour! I have been excited about this tour for quite a while now, so I'm delighted to be finally putting up the first post.
BeSwitched and BeSwitched Witch are the first two books in the series by the wonderful Molly Snow. This tour celebrates the release of BeSwitched Witch, which was released on December 9th on Smashwords and Amazon for Kindle.
Molly has been wonderful enough to write a guest post especially for the followers of Pen to Paper, about four wonderful literary series and what she learnt from them as a writer!
So I'll pass you over to Molly!
The 4 Book Series I Grew Up Reading (And What They Taught Me About Writing!)
Nancy Drew: Nancy was constantly surrounded by strange happenings. Almost every two pages, there is some new event, so the reader is never bored. Grab one of her books, and check for yourself! I was recently flipping through The Mystery at Lilac Inn, where Nancy's canoe is capsized, she almost gets harpooned, her identity is stolen (along with her diamonds) all in a short matter of time. Whew! This taught me, that as an author, I can have a lot of fun with my imagination
Sweet Valley High: My best friend and I would lay in bed and speak the separate dialogue of twin teenage sisters, Jessica and Liz Wakefield. We had so much fun acting it out with our voices. I now read my books out loud with another person before finalizing them, to see how it sounds. I think a book should sound as good as it reads.
Goosebumps: Monsters, slime and skeletons. What 6th grader wouldn't love all that? But more importantly, the series had a lot of teasers. The chapters would end with a scare or cliffhanger, so you would have to see what was coming next. I like to use this method, hoping my books will be page-turners.
Fear Street: Teenage horror stories, centering around themes such as: Prom, Vampires, and a Psycho Santa. Nothing unusual there, I know ;) This was the first series that made me swoon over a boy—Gabri, in Goodnight Kiss—a hottie teen vampire, way before Edward Cullen's debut. I felt like I was the girl on the beach looking into his eyes. Now I can't help but add an eye-pleasing guy in my books. It's something that I craved back then as a reader and something I still crave today as an author.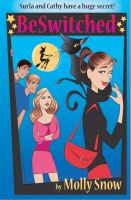 Purchase the eBook of BeSwitched, book one in the series:
Smashwords
|
Amazon.com
|
Amazon UK
Or purchase a print copy:
Breezy Reads Book Store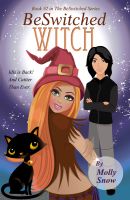 Purchase the eBook:
Smashwords
|
Amazon.com
|
Amazon UK
or purchase a print copy:
Breezy Reads Book Store
Also, hop on over to Molly's blog for your chance to win the tour's grand prize of a Kindle Touch Wi-fi and a signed copy of both books!
This is an international giveaway and you must be over the age of 14 to enter. Please read all of the Terms & Conditions at the bottom of the Rafflecopter.
CLICK HERE TO ENTER
Also, Molly will be returning to Pen to Paper for an interview and giveaway on January 23rd. One lucky international follower will win eBook copies of both books! Keep your eyes peeled for that one! See you there!