Earlier this month, some of you may have noticed that I posted Pen to Paper's first post in the BeSwitched blog tour, which was a guest post from author, Molly Snow, in which she listed the four book series that she grew up with and what each of them taught her about writing. If you missed this post,
click here
to read it now!
Now though, it's time for another exciting blog tour post from Molly, and this time we get to sit down to have a chat with Molly herself! So, I'm delighted to be able to welcome Molly back to Pen to Paper!
First of all, would you be able to tell us a little something about yourself?
I grew up in the Bay Area of California and recently moved to Idaho—the land of potatoes. But that's not all they have. I really love it here, for the fact that it is not as crowded and the cost of living is lower.
Who are your favourite author(s), and what makes them so special?
Dani, this might sound strange, but as a writer, I do not currently have a favorite author. I love to skip around and read whatever topics interest me, by whomever. I also read mostly non-fiction, so that's probably surprising. My favorite author as a teen was R.L. Stine. I loved his Fear Street Series.
Which book would you say stands out as your favourite childhood novel?
Love at First Bite
by R.L. Stine was a memorable one for me. The vampire guy really drew me in.
Do you have a favourite book in adulthood?
I have yet to reread a book. When the day comes that I read a book more than once, then I will know! :-)
Which author(s) do you think have the biggest influence on your own writing?
Roald Dahl, because of
James and the Giant Peach
. I loved the way James' aunts were described. They were so vivid and over-the-top. That story may have made me feel free to write Idis the witch in The BeSwitched Series as a kook. I remember thinking about Aunt Sponge and Aunt Spiker when introducing Idis.
Have you always wanted to be a writer? What was it that convinced you to finally put
Pen to Paper
?
I wrote my first substantial story when I was in the 4th grade, called "The Journey for the Most Valuable Pearl." It was about indians that lived inside of a mountain, and some teens found an entrance. It was 117 pages penciled in on a Steno notepad.
What inspired the Beswitched series?
Switching lives. To this day, I love stories that have a switch. I can't help myself. I think I like the concept of being able to put yourself in someone else's shoes. My husband makes fun of me all the time--"It has a switcharoo! Molly will like it!"
For anyone who hasn't come across your books before, what would you tell them makes your books worth reading (in your opinion)?
I let loose with my imagination. I truly had fun writing the books, and I think that it shines through.
Do you have any phobias?
Cockroaches. They are so disgusting, oh my gosh.
Are you a tea drinker or a coffee drinker?
I drink mint herbal tea. It goes great with Chinese food!
If you could spend one day doing anything you wanted - anything at all - what would your perfect day consist of?
A Pedicure, massages, writing, playing with my twins and husband. Someone would definitely be making me meals and cleaning my place for me.
Other than reading and writing, what are your other hobbies?
I coupon. I have saved so much money since starting to use coupons back in March. I used to be obsessed in the beginning with it.
Do you have any odd habits?
I just asked my husband to help me with this question. He says the fact that I don't clean is an odd habit. Does that even count? To defend myself, though, I hate cleaning and I will make myself do it... I just dread it.
What are the simple things in life that make you smile?
Seeing my boys hug each other. Watching comedies at night.
And finally, could you tell us an odd or interesting fact about yourself?
I snort when I laugh a lot. And I get into laughing fits, where I cannot stop myself. Once I'm on a roll, it is out of my control. It can be very embarrassing, but the fact that I know I look stupid, cracks me up more.
Thank you so much for coming over to visit us at Pen to Paper again Molly, it's been a real pleasure having you here!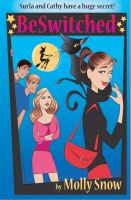 Purchase the eBook of BeSwitched, book one in the series:
Smashwords
|
Amazon.com
|
Amazon UK
Or purchase a print copy:
Breezy Reads Book Store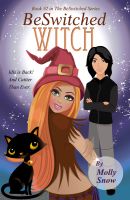 Purchase the eBook:
Smashwords
|
Amazon.com
|
Amazon UK
or purchase a print copy:
Breezy Reads Book Store