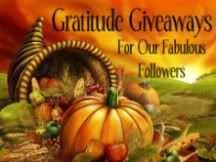 I genuinely wish that I could give a prize to each and every one of you that entered my gratitude giveaway - I'm so grateful to all of you for the support you give me, and I really hope you do enjoy reading my blog!
Unfortunately there can only be one winner for this giveaway, and I shall now announce them ...
So without further ado, the lucky winner is.....
Birgit @ The Book Garden
You've won your choice of a copy of Incubus by Carol Goodman! I really hope you enjoy your prize!
Commiserations to everyone that didn't win this time around, but I do still have one international and one UK giveaway still running until the beginning of December, which you can see on the left side of my blog. I also have another giveaway coming up tomorrow, and another later on in the week, so look out for those!
I'll see you there!