Wishlist Wednesday is a book blog hop where we will post about one book per week that has been on our wishlist for some time, or just added (it's entirely up to you), that we can't wait to get off the wishlist and onto our wonderful shelves.
So what do you need to do to join in?
Follow Pen to Paper as host of the meme.
Please consider adding the blog hop button to your blog somewhere, so others can find it easily and join in too! Help spread the word! The code will be at the bottom of the post under the linky.
Pick a book from your wishlist that you are dying to get to put on your shelves.
Do a post telling your readers about the book and why it's on your wishlist.
Add your blog to the linky at the bottom of this post.
Put a link back to pen to paper (http://www.pentopaperblog.com) somewhere in your post, and a note saying that Pen to Paper is the host of the meme.
Visit the other blogs and enjoy!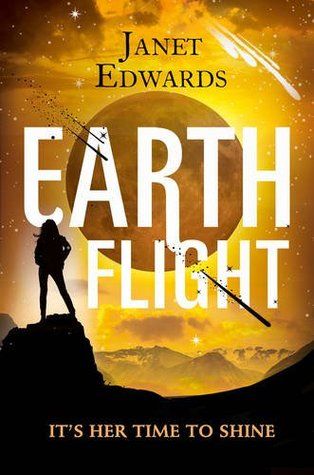 Earth Flight (Earth Girl #3)
by Janet Edwards
Synopsis:
The thrilling conclusion to Janet Edward's sensational debut YA sci-fi trilogy.

Jarra never wanted to be a celebrity. All she ever wanted was to gain some respect for the people left on Earth: the unlucky few whose immune system prevents them from portalling to other planets.

Except now she's the most famous Earth girl in the universe – but not everyone in the universe is happy about it, nor the fact that she has found love with a norm. Jarra's actions have repercussions that spread further than she ever could have imagined, and political unrest threatens to tear apart the delicate balance of peace between humanity's worlds.

On top of everything, the first alien artefact ever discovered appears to be waiting for Jarra to reveal its secrets. But to do so, she must somehow find a way to leave Earth – or else the alien artefact will be lost forever. Is there a way for Jarra to travel to another planet? Or is her destiny only to look to the stars – but never to reach them?
I loved
Earth Girl
, and ever since I read it, I've not been able to stop telling people just how wonderful it is. Unfortunately, I've not yet read Earth Star, the second book in the trilogy, but with the third book coming out in August, I will definitely be reading it so I can find out what happens at the end.
If you've not started this trilogy yet, why not? Go out and get yourself a copy! (Then thank me later).
What's on your wishlist this week? Let us know in the comments below, or link to your own Wishlist Wednesday post in the Linky :)