First Page Friday
is a new weekly feature at
Pen to Paper
, where I will post the first page of a (probably) Young Adult book, that I am particularly excited about, or have already read and loved.
The Forsaken
by Lisa Stasse
Publisher
:
Orchard Books
Pages
:
432
Release date
:
2nd August 2012
Buy
:
Book Dep
|
Amazon UK
|
Amazon US
|
Waterstones
Find on Goodreads
Goodreads synopsis:
Alenna Shawcross is a sixteen-year-old orphan growing up in a police state formed from the ashes of Canada, the US and Mexico after a global economic meltdown.





But when she unexpectedly fails 'the test' - a government initiative which supposedly identifies teens destined to be criminals - she wakes up alone on a remote island reserved for the criminally insane.





Terrified and confused, she soon encounters a group of other teen survivors battling to stay alive, including Liam, a boy who will become her love... and her lifeline.





Soon Alenna makes the terrifying discovery that there's more to the island (and her past) than she could ever have guessed... But who can she trust? And can she ever escape?
The First Page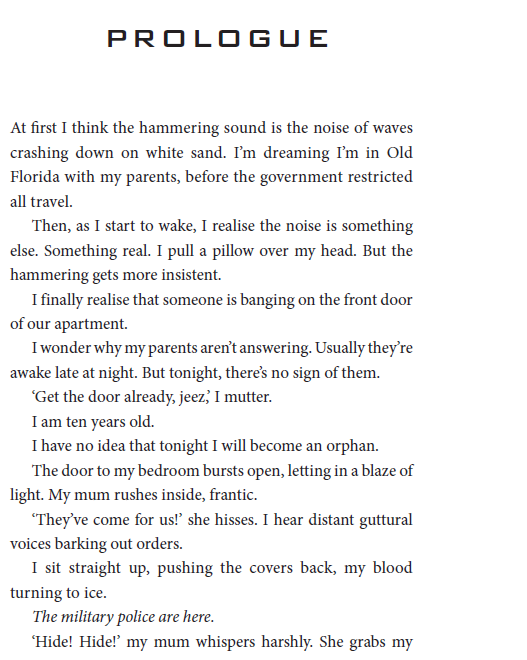 My Thoughts...
This is only the second occasion, where I am featuring a book on First Page Friday, that I haven't actually read myself, yet. So again, I am reading the first page, for the first time, without any influence from the experience of the story as a whole.
I have to say that this book seems to be immediately gripping and exciting, which makes me want to pick it up
now
. We're straight into the action, thrown right into the middle of things, and already I have a
need
to know what is happening. I have
loads
of questions, on top of this; "
Why are the military police there for them, what did they do?
", "
Why did the Government restrict all travel?
", "
How is she going to deal with becoming an orphan at such a young age, in an apparently quite violent world?
" etc... the list could really go on for a while - and this is only the first page!
If the first page is anything to go by, then this book is going to be something really quite incredible, and I can't wait to read it!
Have you read The Forsaken? What did you think of it?
If you haven't, does this first page make you want to pick it up, if you weren't already considering it?
Let us know in the comments :)