This week's post will be a little shorter than last week.
The books I've had during the week have mostly been what I've spent from the remaining money from gift cards that I got for my birthday.
I'll leave links to The Book Depository pages for each book, so you can go and mooch! :)
Physical books: Bought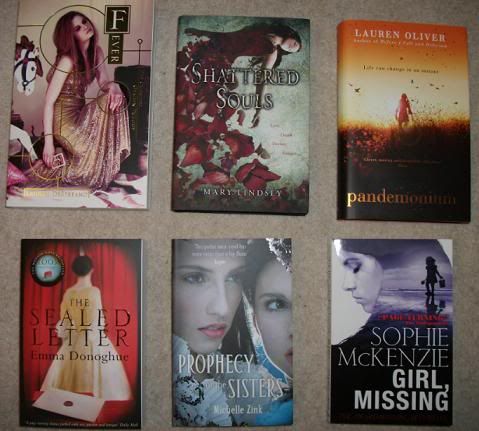 Fever
by Lauren DeStafano: This was the first book I got with my birthday Amazon voucher from Jenny at Chocolate Chunky Munkie. I really love the cover, and it looks so pretty sitting next to Wither on my shelves. They're both gorgeous-looking books! Having read a couple of chapters of Wither the other day, I'm really looking forward to both of them.
Shattered Souls
by Mary Lindsey: This is the other book I got myself with the gift voucher from Jenny, and I'm really excited about this one too - it's been on my wishlist for AGES! Again, I've read the first couple of chapters (just to sample it, obviously) and it's looking pretty good. Another that I'm really excited about!
The Sealed Letter
by Emma Donoghue: I really loved Room, and I've been waiting for this one to come out in paperback for ages! Now it's finally here, and I'm really excited to see what it's like. I hope it's as good as Room was!
The Prophecy of Sisters
by Michelle Zink: I was pre-ordering
A Temptation of Angels
and decided to have a look at Michelle's other books. This one looked really interesting, so I'm looking forward to it. Hopefully A Temptation of Angels will also arrive soon after it's published!
Girl, Missing
by Sophie McKenzie: I bought this one with part of what is remaining on my Waterstones gift cards that I got for my birthday. I bought it mostly because I've won a signed copy of the sequel (which should be arriving tomorrow), and I wanted to be able to read this one first. It looks like a nice, short, intriguing read.
From Publishers to review
Pandemonium
by Lauren Oliver: I received this one from Hodder & Stoughton, so thank you to them for my book! I'm really
really
looking forward to reading this one. I read Delirium on holiday during the summer and it was one of my favourite books of the year (this is why I keep putting it up on my giveaways as a possible prize - and it's been a popular option, which I'm glad about!), so I'm hoping Pandemonium will live up to this! I'm fairly certain that it will!
Won
The Accidental Vampire
by Lynsay Sands: I won this one from Book Passion for Life, earlier in the month. I have books 1-4 in eBook format to read, so I'll look forward to this one sometime in the future.
Birthday Present from Work
Dracula
by Bram Stoker (Barnes & Noble leather-bound classics): I had been off work for nearly three weeks for my 21st birthday, and when I got into work yesterday, I had a present waiting for me, which I really wasn't expecting. I opened it when I got home, and this is what I got. I love these editions, and I now have four of them! They're gorgeous :)
eBooks
Siren
by Tricia Rayburn: This one was on the Kindle Daily Deal for 99p earlier in the week, and as it was on my wishlist, I jumped at it. It looks like something a little different from my usual choice of reads, so I'm looking forward to seeing what it's like.
Airel
by Aaron Patterson: I won this one from another giveaway, and the author emailed me with my copy earlier this week. This is another that I'm really looking forward to. I really give meaning to 'too many books, too little time'!